20100621 Lee Jun Gi 120100621 Lee Jun Gi 220100621 Lee Jun Gi 320100621 Lee Jun Gi 420100621 Lee Jun Gi 520100621 Lee Jun Gi 6100621(ENG TRANS) LEE JOON GI RADIO INTERVIEW BY LEE DONG WOOK
LEE JOON GI WAS THE GUEST OF LEE DONG WOOK PROGRAMME(1800-2000) ON FRIENDS FM(KFN) ON 21ST JUNE
@@@ENG TRANS BY CWNG@@@
LEE DONG WOOK(W):FREEDAY GUEST SEAT, A HAPPY MONDAY TO THOSE WHO ARE EAGERLY WAITING FOR THE PROGRAMME"LISTEN TO THE STORY".JUST STEPPED OUT FROM TRAINING CENTRE,INTO DEFENSE MEDIA TEAM, FROM KING'S MAN TO NOW, MAN OF THE ARMY, MAN OF THE NATION,PRIVATE LEE JOON GI—LEE JOON GISSI, HOW ARE U?
*LEE JUN GI(J):CHUNGSUNG,I'M PRIVATE LJG,NICE TO MEET U.
W:FEELING LITTLE AWKWARD(NOT USED TO IT)?
*J:CAN WE SPEAK IN MILITARY TONE, WE CAN'T SOUND TOO TENDER
W:WE ARE ON AIR..PLS BE MORE NATURAL
*G:I UNDERSTAND, I MUST CALL U SENIOR
W:DON'T SAY THAT, YOUR FANS WILL CRITICISE ME
*G:HAHAHA, OK, MORE NATURAL
W:PLS GREET OUR AUDIENCE FORMALLY
*J:ALL RIGHT,HELLO EVERYONE,PLEASED TO MEET ALL OF U, I'M
LJG.REALLY, IT HAS BEEN A LONG TIME SINCE I GREETED EVERYONE IN THIS WAY,MEETING MY FANS THIS WAY,IT HAS BEEN A LONG TIME SINCE I WAS ON AIR, IT'S A MIXED FEELING OF ANXIETY & EMOTION.
W:OH, IT HAS BEEN A LONG TIME?
*J:YES, THAT'S RIGHT
W:HOW LONG?
*J:I WAS CALLED UP TO ENLIST AMIDST FILMING SO IT HAS BEEN ABOUT 6 MONTHS SINCE I LAST WENT ON AIR
W:ALMOST 6 MONTHS,LJG FINALLY MAKES HIS FIRST APPEARANCE ON KFN BROADCAST AFTER 6 MONTHS, THIS IS FATE
*J:HAHAHA
W:U HAVE BEEN WITH THE DEFENSE MEDIA TEAM FOR A WEEK
*J:YES, THAT'S RIGHT
W:HOW IS IT? SEEMS LIKE U HAVE ADAPTED TO IT
*J:THAT'S RIGHT, BECAUSE THE SENIORS HERE HAVE BEEN TAKING GOOD CARE OF ME
W:WHO TAKES CARE OF U BEST AMONG ALL?
*J:ALL ARE GOOD TO ME, ESPECIALLY DONG WOOK HYUNG…
W:YES YES..LISTEN UP…TELL ALL LJG FANS…IS ME…I TREAT U THE BEST!
*J:IT'S TRUE,TAKE CARE OF ME WELL, HAVE RECEIVED LOTS OF HELP
W:WE BOTH DONE WELL
*J:HAHAHA
W:U ATTENDED THE DREAM CONCERT LAST FRIDAY WITH KIM JAE WON, HOW DID U FEEL THEN?
*J:THAT EVENT WAS MY FIRST PUBLIC APPEARANCE AFTER ENLISTMENT SO I WAS VERY NERVOUS, I'M STILL NOW, BECAUSE IT WAS MY FIRST TIME AS AN ARMY PERSONNAL,I WAS AT A LOSS WHAT TO DO(BUT) UNDER THE GOOD GUIDANCE OF KIM JAE WON SENIOR, I WAS ABLE TO DO IT NATURALLY & COMFORTABLY.I MIGHT LOOK CALM BUT INSIDE OF ME, I WAS NERVOUS
W:WHEN U FIRST WENT ON STAGE, U DID LOOK NERVOUS.PERHAPS IT HAS BEEN A WHILE SINCE U INTERACT WITH YOUR FANS.
*J:YES,SINCE I'M A SOLDIER, I HAVE TO PORTRAY THE IMAGE OF ONE,AT THE SAME TIME, FILLED WITH THE ANXIETY OF MEETING MY FANS。I WAS REALLY AT A LOSS ON HOW TO DO IT.
W:THAT'S RIGHT. WE AT DEFENSE MEDIA ARE CONSTANTLY FACING THIS CONTRADICTING PROBLEM.IN THE EVENT OF THE BROADCAST,EITHER IMAGE OF ONE'S TRUE SELF OR THAT OF A SOLDIER WILL BE REVEALED,IT'S DIFFICULT TO FIND A COMFORTABLE POSITION IN BETWEEN,I'M ALSO A BEGINNER AT BROADCASTING
*J:HAHAHA, THERE'S A LOT TO LEARN
W:NO, DON'T LEARN FROM ME..HAHAHA
U WERE AT THE CONCERT WITH KIM JAE WON, I GATHERED THAT U DID A HANDSOME MARCH ONTO STAGE,SO SMARTLY ,WAS IT LIKE THAT?WAS THAT WHAT U SEE?
*J:THEY ARE ALL MY SENIORS,I HAVE HEARD FROM OTHERS THAT IT IS THE BEST WAY TO GREET THEM FOR THE FIRST TIME(A SALUTE)
W:OF COURSE,WE ALL SOLIDERS, WE MUST BEHAVE LIKE ONE, WHY DO I HAVE SUCH A QUESTION FOR U(IT WAS A QUESTION FROM FAN'S MESSAGES)YOUR VOICE SOUNDS A LITTLE HOARSE
*J:YES
W:DO U FEEL A LITTLE UNWELL, IT'S YOUR FIRST TIME HERE
*J:NO MATTER WHAT, THERE IS AN ADAPTATION PERIOD, THERE IS SOME RESPIRATORY & COUGH PROBLEMS.IT IS ON THE ROAD TO RECOVERY, MY COUGH WAS WORSE WHEN I FIRST CAME, IT IS GETTING BETTER NOW, DON'T WORRY
W:ALL FANS, DON'T WORRY,THIS IS LIKE A MUST TEST OR CUSTOM . FOR MY CASE, WHEN I FIRST TRANSFERRED HERE, I WAS UNWELL FOR 2,3 DAYS 7 WAS RUNNING A FEVER.I HAVE ASKED THE SENIORS, SEEMS LIKE THIS IS THE CASE FOR EVERYONE.SIMILAR TO JG,REGARDLESS OF EARLIER ENLISTMENT LIKE ME, OR LATER ENLISTMENT LIKE (DYDU)DYNAMIC DUO OR BOOM, ALL HAD SIMILAR EXPERIENCE
*J:CAN U STILL REMEMBER, ALL THOSE AT THE TRAINING CENTRE WOULD CATCH A COLD FOR SURE
W:YES, RIGHT..NO ONE IS SPARED
*J:I CAME FROM NONSAN, IT'S VERY DUSTY THERE
W:ABSOLUTELY,I WENT TO NONSAN, 30TH REGIMENT TOO
*J:YES, I HEARD MANY RUMOURS.HAHA,I WORKED HARD IT WAS SERIOUS (COLD).NOW JUST AS I THOUGHT I HAVE RECOVERED, IT COMES AGAIN,OMG, THIS IS SO CALLED ADAPTATION PERIOD, IT'S FIGHTENING
W:THAT'S RIGHT, DO NOT WORRY TOO MUCH, UNDER OUR TENDER CARING(CRADLE/DOTE)IT WILL BE A SPEEDY RECOVERY
*J:YES, PLEASE GIVE ME MEDICATION DAILY
W:OK, AFTER MEDICATION, WE WILL TUCK U IN BED
*J:ALL RIGHT HAHAHA
W:THERE ARE SINGERS,COMEDIANS,ACTORS IN THE DEFENSE MEDIA,NOT ALL OF WHOM ARE FAMILIAR.WHAT WAS YOUR FIRST IMPRESSION OF THEM?
*J:UNDER THE CIRUMSTANCE AS ARRANGED BY OUR COUNTRY, IT'S HARD TO IMAGINE, DIFFERENT PEOPLE FROM ALL WALKS OF LIFE, REGARDLESS OF AGE,COME TOGETHER, IT'S WONDERFUL.
W:IT'S AMAZING
*J:I HAVE A LOT TO LEARN,I'M WITH DYDU HYUNG NOW,THERE ARE MANY SENIORS WHOM I MEET FOR THE FIRST TIME, SEEING THEIR SINCERE FACES,THERE ARE SO MUCH TO LEARN,I CAN'T HELP BUT ASK FOR ADVICE,I'M LOOKING FORWARD TO A TIME WHEN I BECOME A MORE MATURED & ENRICHED PERSON
W:THIS IS TRUE,FROM THE DAY U FIRST ARRIVED TO NOW, ONE WEEK'S TIME OF SHARING & INTERACTION, U HAVE ADAPTED WELL.BECAUSE IT WAS A SUDDEN ENLISTMENT, U WERE A LITTLE LOST BUT U NEVER SHOWED IT
U HAVE PERFORMED EXCELLENTLY FROM YOUR ACTIONS TO YOUR WORDS.U MAY NOT BE AWARE,JAE WON & I & OTHER SENIORS THINK SO.JG HAS ADAPTED WELL, HAS WORKED HARD & MUST HAVE RECEIVED MANY PRAISES
*J:I'M THANKFUL
W:OF COURSE, HE IS STILL RECEIVING THEM(PRAISES)
*J: I'M FIGHTING
W:THIS QUESTION..
*J:HAHA… IT'S RATHER AWKWARD
W:NO,DON'T BE..LET ME READ THIS QUESTION…DRAMAS U ACTED WITH LEE DONG WOOK
*J:MY GIRL
W:HOW LONG HAVE THE TWO NOT MET?
*J:IT SEEMS A LONG TIME, TIME PASSES SWIFTLY WHEN ONE'S BUSY,I'M THRILLED TO MEET EACH OTHER IN THE MILITARY AFTER SUCH A LONG TIME
W:YES, THAT'S RIGHT
*J:IT HAS BEEN SO LONG
W:WE MET AT MOVIE SCREENING AFTER THE DRAMA
*J:I WENT BECAUSE IT WAS DONG WOOK HYUNG'S WORK
W:IT HAS BEEN 2,3 YEARS
*J:IT'S VERY LONG
W:ALTHOUGH WE HAVE NOT MET FOR LONG, WE GET ALONG WELL & COMFORTABLY
*J:I SEE THE HEALTHY IMAGE OF DONG WOOK HYUNG
W:HAHAHA
*J:HAHAHA..I'M SORRY ABOUT THAT
W:YES, SHOCKING, ISN'T IT?
*J:YES, RATHER SHOCKING BUT HEALTHIER & IN BETTER SHAPE THAN I
W:U SURE?I GUESS I WILL GET DIABETES SOONER OR LATER…
*J:HAHAHA
W:JOKING.HOW IS IT?SEEING A FAMILIAR FACE MAKES U FEEL MORE COMFORTABLE, ISN'T IT?
*J:YES, VERY COMFORTABLE.WHEN I FIRST CAME, ALL WAS NEW TO ME,I KNEW NOTHING.KNOWING SOMEBODY LIKE DONG WOOK HYUNG & BOOM,PEOPLE WHOM I HAVE WORKED WITH & UNDERSTAND,I CAN CONSULT THEM ON ANYTHING,IT IS COMFORTING
*J:ONE NEEDS TIME TO ADJUST
W:WHEN I FIRST CAME, I STRUGGLED FOR A WEEK, THIS IS NORMAL,DON'T WORRY
LET ME REPEAT,JG IS DOING FINE HERE, HE IS THE EARLIEST TO WAKE UP & TAKE GOOD CARE OF US, SENIORS
*J:I WILL DO BETTER
W:U CAN SAY THAT
*J:YES, I KNOW
W:U CAME OUT FROM CAMP NOT TOO LONG AGO, SO MEMORIES OF THE TRAINING CENTRE STILL FRESH ON YOUR MIND?I HAVE COME HERE FOR ABOUT 11 MONTHS & HAVE FORGOTTEN ALL THOSE DAYS AT THE TRAINING CENTRE…TO THAT EXTENT
*J:IT CAN'T BE…NO
W:IT'S ALL REMEMBERED WELL!
*J:HAHA
W:LET'S TALK ABOUT TRAINING CAMP, U WERE WORRIED BEFORE U WENT IN?
*J: FANS HAVE ANTICIPATED TO SEE MY NEXT PRODUCTION,BUT I WAS FORCED TO CALL OFF ALL MY PROJECTS TO ENLIST,TO FULFILL MY DUTY,THIS IS REGRETTABLE & I FIND THE YEARS OF SERVICE A LITTLE BURDEN.I FELT SAD ABOUT THE UNCERTAINTY SO WHEN I FIRST WENT IN, I FELT DOWN & LOW SPIRITS.
*J:I SOUGHT ADVICE FROM MY SUPERIOR,TOLD HIM MY MIXED FEELINGS…I WOULD RATHER TRAIN WITH THE REST THAN SEPARATELY, THAT WAS MY REQUEST
(NOW)LOOKING BACK,MOST TRAINEES THERE WERE MY JUNIORS,I DID NOT HAVE TO WORRY MUCH,THIS MADE ME FEEL YOUNGER TOO
W:SO THEY INFLUENCED U?
*J:YES, I THINK I HAVE ADAPTED SINCE THEN…I FEEL YOUNGER & RELAX(WITH THEM)
W:U RECEIVED MANY CHOCO PIES
*J:CHOCO PIES HAHA ARMY LIFE..HOW TO PUT IT…. AS IF I HAVE BEEN PURIFIED
W:U ARE RIGHT..IT IS
*J:BECAUSE NO DISTRACTION IS ALLOWED,THE TRAINING CENTRE IS SOME SORT OF A FILTER,MANY HAPPY MEMORIES
W:OH I SEE, JG GRADUATED WITH AN AWARD FROM THE SCHOOL
*J:YES
W:U RECEIVED THE HIGHEST APPRAISAL AMONG ALL TRAINEES, SO U WERE FIRST
*J:YES, FIRST POSITION
W:THAT IMPLIES U WERE DOING FINE,ACTUALLY,BY LOOKING AT YOUR CHARACTER & HOW U LIVE YOUR LIFE,THAT'S FOR SURE,WE CAN ALMOST SEE THE JOY IN YOUR EYES
*J:IT IS MORE SUITABLE TO SAY IT'S ENJOYMENT RATHER THAN HARD WORK
W:IT IS OFTEN TIRING AT TRAINING CENTRE,WHEN WAS THE MOST TIRING?
*J:30KM WALK..THOSE WHO HAVE GONE THROUGH WILL KNOW,THERE WERE MANY THINGS TO CONSIDER, U WALK AS U THINK
W:YES
*J:I THOUGHT ABOUT THOSE PEOPLE OUTSIDE,MY FANS,THOSE MATTERS THAT I COULD NOT SETTLE BEFORE ENLISTMENT,IT WAS A MEMORY REPLAY.IT WAS A 6 HOURS, 7 HOURS?OH, 8 HOURS WALK.I RECALLED A LOT, ALMOST MY WHOLE LIFE.IT WAS A STRANGE THING TO DO, WHAT WRONG HAVE I DONE,WHO HAVE I LET DOWN, ALL THESE OCCUPIED ME MORE THAN FATIGUE.
W:LIFE AT THE TRAINING CENTRE IS BENEFICIAL TO US
*J:YES, U CAN SAY THE FEELING IS MUTUAL
W:THIS STAGE HELPS US TO MATURE.IT WAS THE SAME FOR MY CASE, I RECALLED A LOT TOO…9085 LEE DONG WOOK AHJUSSI..PLEASE TAKE GOOD CARE OF HIM (JG)(CRADLE HIM) OUR ACTOR LEE
*J:HAHAHA
W:NO
*J:THERE WILL BE MISUNDERSTANDING IF IT IS OVERDONE
W:LDW AHJUSSI??
*J:HAHAHA
W:NO..
W: SO PROGRESSIVELY, U RECALLED THE DAYS WHEN U WERE IN ELEMENTARY SCHOOL, EVEN NURSERY
*J:REALLY?
W:8 HOURS IS NOT SHORT?I SEE BLISTERS ON JG'S FEET,THEY HAVE BURST
*J:YES, I'M SCARRED ALL OVER
W:NEVER MIND, THIS IS THE FEET OF A HANDSOME MAN
*J:THANK U
W:NOW, LET'S LISTEN TO A SONG, WE RECEIVED MANY MESSAGES FROM FANS, WHAT SONG IS THIS? WOULD U PLEASE INTRODUCE IT?
*J:OH,U HAVE CHOSEN THIS…KING & CLOWN OST..MANY HAVE HEARD IT…FATE.. LET'S GO DOWN MEMORY LANE…FATE BY LEE SUN HEE
W:FREEDAY MONDAY SPECIAL GUEST,WE WILL SPEND A LOVELY TIME WITH ACTOR LEE JOON GI, A NEWCOMER TO THE DEFENSE MEDIA TEAM.
0187 LISTENER SAYS:LJG, DO U KNOW YOUR NEW NICKNAME?YOUR SHORT HAIRSTYLE IS SO ADORABLE, EVERYONE'S BEEN CALLING U CHESTNUT, DO U KNOW?
*J:HAHAHA, YES, I DO.WHILE I WAS AT THE TRAINING CENTRE, FANS WROTE ME MANY LETTERS.I SPENT MUCH TIME READING THEM,ONE BY ONE,IT WAS THE FIRST TIME THAT I HAD SAT DOWN FOR SUCH A LONG TIME.THE CONTENT OF THESE LETTERS WAS ABOUT WHAT HAPPENED OUTSIDE & SOMETHING ABOUT ME.FANS USUALLY ORGANISED THEM BEFORE MAILING TO ME SO I ENJOYED READING THEM.WHEN I FIRST KNEW OF THE NAME, I COULDN'T STOP LAUGHING.
W:SO, DO U LIKE YOUR HAIRSTYLE?
*J:NOT TOO BAD, BUT IT WAS CUT SHORT SO SUDDENLY, I NEED TIME TO GET USED TO IT
W:I FEEL IT SUITS U,IT LOOKS CUTE
*J:HAHAHA,AT FIRST, I WAS WORRIED IF PEOPLE WOULD LIKE IT, WAS THINKING HOW TO MAKE IT LOOKED BETTER
W:IT'S HANDSOME,WHERE CAN WE FIND ANOTHER AS HANDSOME AS U
*J:I HAD THOUGHT THAT EVERYONE WOULD FIND IT HANDSOME, INSTEAD OF CUTE
W:NUMBER 5129 LISTENER ASKS:JG, DO U HAVE A CHANCE TO BE LAZY AT TRAINING CAMP
*J:OH, AT CAMP…HAHAHA
*J:NO,THERE WAS NO CHANCE FOR THAT, BUT THERE HAD BEEN MOMENTS OF DAZE,THE FIRST DAY,I THINK. THIS IS TRUE FOR ALL, A SENSE OF LOST ON THE FIRST DAY
W:WHEN I FIRST WENT IN,I ASKED:WHERE'S THIS PLACE?
*J:MINE WAS:WHY AM I HERE?
W:WHO AM I? WHERE IS THIS PLACE?
*J:WHAT IS THAT LIGHT INDICATOR?…THAT RED INDICATOR…LIKE THAT OF BUTCHER SHOP
W:3457 LISTENER ASKS: JG,IF I SEND U A NOVEL, WILL U READ IT?I HAVE NEVER HEARD THAT U LIKE READING.
W:THIS IS QUITE TRUE, AFTER ENLISTMENT, U HAVE MORE TIME IN YOUR HANDS, MORE TIME FOR READING
*J:BEFORE ENLISTMENT, I WAS MORE EXPOSED TO THE VISUAL MEDIA, I DO READ BUT EVENTUALLY HAS SORT OF NEGLECTED IT. I DID NOT MAKE GOOD USE OF MY TIME
W:THAT'S RIGHT
*J:AFTER ENLISTMENT,I HAVE MORE TIME FOR BOOKS,GRADUALLY I HAVE GROWN TO LOVE READING.I HAVE READ QUITE MANY BOOKS SINCE ENLISTMENT
W:IT IS EASIER TO FOCUS HERE
*J:OF COURSE, I STILL HAVE CLEANING & LAUNDRY TO DO, BUT SOON, I WILL HAVE MORE TIME.
W:4378 LISTENER SAYS:I HEARD THAT DW OPPA WILL INVITE GUEST PRIVATE LJG TO THE PROGRAMME,THIS IS MY FIRST TIME TUNING IN TO THIS ,JUST TO HEAR OPPA'S(JG)
VOICE.DW OPPA IS A GOOD HOST, FROM THE START OF IT TILL NOW, SO WITTY
*J:U ARE FANTASTIC
W:JG OPPA BEFORE HIS ENLISTMENT,HAD TOLD FANS THAT THEY COULD DIVERT THEIR DEVOTION TO ANOTHER(ARTISTE)OCCASIONALLY.IN FUTURE,THEY CAN DO THAT TO DW OPPA, GREAT, THANK U
*J:HAHAHA…WHY DO U SAY THAT
W:ARE U OK?
*J:WHAT IS THIS?HAHAHA..NO..U CAN'T SAY THAT,THIS IS DW HYUNG…THERE ARE MANY OUT THERE WHO ARE CHARMED BY U
W:JG DOES NOT LIKE IT,4378 PLEASE DON'T DO THAT
*J:HAHAHA
W:***LISTENER WOULD LIKE JG TO SING A SONG LIVE, AS SONG THAT HE SANG WITH FELLOW COMRADES RECENTLY,WITH CLOSE TO BREAKING VOICE
*J:WHAT SONG IS THAT?
W:OH…' SURE WIN KOREA,ROK'
*J:HA…THIS IS THE WORLD CUP PERIOD
W:LISTENER 2210 REQUESTS JG TO SING TROT LIVE
JG HAS CUT AN ALBUM,JUST SING A SEGMENT FOR FANS
*J:WHAT SHOULD I SING, MY THROAT IS NOT WELL
W:JUST BREIFLY
*J:'MY LOVE TO U IS UNCONDITIONAL, UNCONDITIONAL'….ER…WHY IS THERE ECHO?
W:YES ..WE ARE LIKE THAT
*J:….IT'S GONE(ECHO)…'MY MOST SINCERE LOVE…AH…'
WOW, THIS IS AMAZING, WHAT'S GOING ON?
W:IT'S DONE BY OUTSIDE(OUT OF STUDIO)
*J:THIS IS HIGH-TECH
W:U SING WELL
*J:NO, JUST HUMMING, IF IT SOUNDS GOOD, IT'S BECAUSE OF THE EFFECT
W:IS THIS THE FIRST TIME U ARE DOING SUCH A PROGRAMME?
*J: YES, MY FIRST TIME
W:OH I SEE
*J:PRIOR TO THIS, I DID AN AUDIO CLIP FOR BOOM'S SHOW
W: THAT 'S THE VERY BASIC OF AN ARTISTE
*J: I'M SORRY
W:THERE'S NOTHING THAT OUR BROADCASTING TECHNIQUE CAN'T DO
*J:THAT'S FANTASTIC
W: IF U ARE WILLING, WE CAN CHANGE YOUR VOICE
*J:I HAVE NEVER THOUGHT OF THAT
W:U SEE, HOW MIGHTY IS KFN
*J:CAN IT REALLY CHANGE MY VOICE?
W:YES
*J:LET'S GIVE IT A TRY
W:WAIT
*J: HAHAHA
W:DON'T CHANGE THE TOPIC ALL OF A SUDDEN, LET'S LISTEN TO A SONG.LJGSSI..OH QUESTIONS ON THE BOARD…I HAVE FORGOTTEN…TOO HAPPY TO BE WITH U…SO SORRY
*J: THERE ARE PAPERS EVERYWHERE
W:YES, I HAVE FORGOTTEN..EVER SINCE IT WAS ANNOUNCED THAT U WOULD BE COMING TO THE SHOW, WE RECEIVED MANY QUESTIONS.LET'S GET IT DONE.
***ASKS:WOULD LIKE TO KNOW HOW TO GET THE INSTRUCTOR AWARD
*J:IN EVERY ITEM THAT I DID AT THE TRAINING CAMP, I DID IT WITH AMBITION & ENJOYMENT.THE OTHER FELLOW TRAINEES WERE AT THE AVERAGE AGE OF 20, 21, I DID NOT WANT OUR AGE GAP TO BE OBVIOUS, I HAVE TO KEEP UP MY PACE.
W:OK
*J:I'M 29, I WANTED TO SHOW THE BEST OF ME, SOMEHOW I RECEIVED HIGH APPRAISAL, VERY POSITIVE ONES
W:U BECAME THE TEAM LEADER?
*J: YES
W:THE LEADERSHIP ABILITY ADDED MERITS TOO
*J:FELLOW TRAINEES HAD A HARD TIME BECAUSE OF M.SITTING HERE NOW, I WOULD LIKE TO TELL MY TEAM MATES WHO HAVE BEEN TRANSFERRED TO VARIOUS UNITS, THAT I MISS THEM & PLEASE TAKE CARE OF YOURSELVES, 30TH REGIMENT
W:LET'S PROCEED TO NEXT QUESTION,***MESSAGE:WE HAVE GOTTEN USED TO THE NEW HAIR STYLE, WHAT ABOUT THE MUSCLES?
*J:KIM JAE WON SENIOR TRAINS HARD ON THAT, I WAS STUNNED WHEN I SAW IT YESTERDAY.
W:WERE U STIMULATED?
*J:YES, HE DID IT WELL, DOING SIT- UPS LIKE A ROBOT
W:LIKE THAT OF 'TERMINATOR'?
*J:YES, THAT'S HIS NICKNAME.ME TOO, WANNA TAKE UP THE CHALLENGE.I WILL LEARN FROM JAE
WON HYUNG
W:GETTING FAMILIAR WITH THE SHORT HAIR?
*J:YES, THAT'S RIGHT, I WISH TO KEEP THIS STYLE IN THE SHORT RUN
W:SHORT RUN, HAHAHA.IT HAS TO BE THIS WAY UNTIL U COMPLETE YOUR SERVICE
*J:YES, SHORT RUN, 2 YEARS.U CAN SAY IT'S SHORT RUN OR LONG RUN
W:***MESSAGE:AS U ARE THE JUNIOR, DID U GET A BED(DORM) NEAR THE DOOR?
*J:MY SENIORS ARE ALL KIND SOULS,THEY DID NOT PUT ME AT THAT CORNER.I WAS GIVEN A POSITION NEAR THE AIR-CONDITIONER & TV WHICH IS..
W:NEAREST TO THE WINDOW
*J:HAHAHA, I WAS ALLOCATED A GOOD POSITION
W:THAT'S RIGHT
*J: I'M THANKFUL TO THEM
W:YES
*J:OH, MY VOICE
W:NO MATTER WHO U ARE, ALL NEWCOMERS WILL BE ALLOCATED THAT POSITION
W:***MESSAGE:WHAT DO U EXPECT FROM YOUR JUNIORS..
*J:WHAT I EXPECT…WHAT DOES DW HYUNG EXPECT
W:I LIKE THEM LIKE JG
*J:OH, REALLY?
W:YES
*J:WHY
W:WE HAVE NOT MET FOR A LONG TIME & HOPE TO WORK WITH HIM IN FUTURE DRAMAS
*J:OH, THANK U
*J:AS FOR ME, HOW TO PUT IT…I LIKE TO SEE SOMEONE WHO CAN GET ALONG WITH OTHERS IN ALL OCCASIONS,LIKE NO.A FRIEND FOR LIFE,I WILL WELCOME HIM WITH OPEN ARMS
W:THAT'S RIGHT
*J:THIS WILL BE GREAT, BOTH PARTIES WILL BENEFIT
*J:BEFORE I CAME IN,THE EFFORT & SWEAT THAT I PAID IT'S ON A DIFFERENT VALUE.IN HERE, IT IS MAINLY COMBAT, TEAM WORK & OBLIGATIONS TO FULFILL.BECAUSE I'M STILL A NEWCOMER,I FEEL I'M LEARNING SOMETHING NEW EVERY SINGLE MOMENT.
W:(WORK TO BE DONE IN THE ARMY) THEY ARE ALL STRAIGHTFORWARD,RIGHT?
*J:YES, TO PUT IT RATHER BLUNTLY,SIMPLE,HAHA…BUT IT'S TRUE
W:YES,ONCE U GET USED TO IT, U WILL ENJOY SUCH A LIVING
*J:YES, IT WILL BE,LIKE OUR SENIORS
W:U WILL GAIN MUCH FROM MILITARY LIFE
W: NEXT, WE HAVE ***MESSAGE:U RECEIVED MANY MAILS AT TRAINING CAMP,U CAN WRITE LETTER TOO.WHO DID U FIRST WRITE TO?
*J:OH, MY FIRST LETTER WAS TO MY PARENTS, FOLLOWED BY MY COMPANY STAFF,ASKING HOW THEY WERE DOING WITHOUT ME, THAT'S ALL.I HAVE WANTED VERY MUCH TO REPLY TO FANS' MAIL BUT IT IS IMPOSSIBLE TO DO THAT.I RECEIVED MANY MAILS, PEOPLE AT TRAINING CAMP HAVE RENDERED ME HELP,(LETTERS) SO MANY OF THEM, I COULDN'T CARRY.THANKS FOR THE CONCERN & BECAUSE OF ALL THE BLESSINGS I GOT, I SURVIVED WELL(TRAINING CAMP)
W: U HAVE A DEEP IMPRESSION OF THE MAILS U GOT AT CAMP?
*J:YES,VERY MUCH
W:EVERY SINGLE ONE
*J: I FELT GRATEFUL & SAD WHILE READING THE FANS' MAIL
W:BITTER GRATEFULNESS
*J:HAHAHA
W:GIVEN SUFFICIENT TIME, U CAN READ 10000 LETTERS
*J:YES, REALLY.WE HAD A TIGHT SCHEDULE AT CAMP, I COULD ONLY PAUSE & READ…THOSE WERE
PRECIOUS TIME…PRECIOUS MOMENTS…I CAN'T THINK OF A BETTER DESCRIPTION
W:YES, I SHARE YOUR SENTIMENTS
*J: WHEN U RECEIVED MAILS FROM FANS, HOW DID U FEEL?
W:I FELT GRATEFUL TOO, BUT I HAD FORGOTTEN WHAT I READ, IT WAS LONG TIME AGO
*J:OMG
W:***MESSAGE:A CURIOUS QUESTION …WHEN U HAVE CHILDREN IN THE FUTURE, WHAT INHERITANCE WILL U GIVE THE NEXT GENERATION? A PROFOUND QUESTION
*J:THAT'S RIGHT, I HAVE NO GRAND THOUGHTS ABOUT THAT. I JUST WANT THEM TO HAVE SELF-CONFIDENCE & LEAD AN UPRIGHT LIFE.LEARN FROM THEIR EXPERIENCE & ENJOY THEIR LIVES.NOT TO BE TIED DOWN BY TIME & TIDE, I WISH TO CONVEY THIS TO THEM.
W:OH, NOT BAD, NOT LEAVING ANY MATERIALISTIC INHERITANCE? WANT TO SPEND IT ON YOURSELF?
*J: THEY HAVE TO EARN IT BY THEMSELVES.I LEARN TO SUPPORT MYSELF ,I WISH THE SAME FOR MY CHILDREN.ENJOY THEIR LIVES & WIN APPROVAL FROM OTHERS
W:WHO DO U MISS MOST?
*J:WENT TO SEOUL PLAZA RECENTLY, MET MANY FANS BUT I COULD ONLY GREET THEM BRIEFLY SO…
W:I'M NOT REFERRING TO FANS
*J:HAHAHA
W:DON'T THINK U CAN GET AWAY WITH THAT ANSWER, HA
*J: LET ME THINK HARD,(OUTSIDE CAMP) THERE IS MY FAMILY,BESIDES MY COMPANY.
W:YES, I'M REFERRING TO FAMILY
*J:OH, THIS COULD BE THE CLIMAX , BECAUSE OF ME
W:JOKING.. ***MESSAGE:HAVE U EVER CORRESPONDED WITH OR MET ANY FEMALE ARTISTE WHILE
IN CAMP? IF YES, WHO?
*J: ALL FELLOW TRAINEES WERE LOOKING FORWARD TO THAT
W:DID ANY FEMALE ARTISTE WRITE TO U?
*J: EVERYONE ASKED ME DAILY IF THERE WAS ANY MAIL FROM LEE HYORI OR HAN HYO JOO. WAITING & ASKING, BUT NONE CAME.IT WAS SO SAD
W:THEY DID NOT KNOW WHERE U WERE POSTED TO, THAT'S WHY.U CAN TELL THEM WHERE U ARE NOW, THROUGH THE AIR.NEXT WEEK, WE CAN MAKE AN ARRANGEMENT(AT THE PROGRAMME)
*J:CAN THEY REALLY COME HERE?
W:NO WAY
*J:OH, I THOUGHT IT'S POSSIBLE.I'M AT DEFENSE MEDIA
W: AT YONGSAN DEMA
*J:INSIDE
W:WELCOME..DOES JG LIKE SOCCER?
***MESSAGE:WHAT'S YOUR PREDICATION OF GOALS BETWEEN SK & NIGERIA(23RD JUNE MATCH)
*J: WE ARE HAVING SOME BETTINGS
W:WE EVEN DREW UP A TALLY
*J:I PREDICT A 2-1 WIN FOR SK, AS ALL HAVE KNOWN, I LOST THE BET ON THE MATCH WITH ARGENTINA BUT WON THE BET ON THE FIRST MATCH
W:JG IS NOT ONLY GOOD AT PREDICTING MATCHES OF OUR COUNTRY, HE IS GOOD AT PREDICTING OTHERS TOO.
*J:MY PREDICTIONS WERE WRONG FOR THE LAST 2 MATCHES, I HOPE THIS TIME IT IS CORRECT
W:YES, OUR COUNTRY MUST WIN 2-1
W:HM…SOME MORE…*** MESSAGE:U PARTICIPATED IN MANY EVENTS AFTER ENLISTMENT, WHICH ONE LEAVES U WITH THE GREATEST IMPRESSION?
*J: I COME TO THIS PROGRAMME TODAY, BROADCASTING IS INTERESTING, U CAN INTERACT WITH FANS,CHAT WITH THEM, THIS IS A NEW ACTIVITY TO ME,,THERE IS STILL MUCH TO LEARN
DW HYUNG 'S PERFORMANCE TODAY IS SUPERB & CHARMING…I HAVE SOME AMBITION NOW..
W:SO ARE U COMING TO 'SPEAK YOUR HEARTS'?
*J:HAHAHA…THE SHOW HAS LOTS OF FANS
W:*** WANTS TO KNOW…WHO GIVE US THE AUTHORITY TO TALK AS WE DESIRE
*J: I WON'T DO IT, DON'T BE ANGRY
W:NO,NO, IT'S NOT LIKE THAT, I HAVE NOT REVISED IT…IT'S GOT TO DO WITH ME
*J: SUCH A POPULAR PROGRAMME, REVISING IT WILL AFFECT ITS RATING
W:*** SAYS: THE IMAGE OF U RESTRAINING YOUR TEARS STILL FRESH ON OUR MINDS..DID U SUFFER A BREAKDOWN AFTER ENLISTMENT?
*J: AFTER ENLISTMENT..HOW TO PUT IT…ON THE DAY ITSELF,BEFORE I CAME WITH MY COMPANY STAFF,I HAD ALREADY MADE UP MY MIND NOT TO CRY BEFORE FANS, I MUST GO WITH A SMILE
WHEN I WAS CLOSED TO TEARS, I BIT MY LIPS & CONTROLLED HARD.I WANT MY FANS TO SEE A BETTER ME,I FELT APOLOGETIC TO MY FANS & AT THE SAME TIME, MISSED THEM.I WAS FULL OF GRATITUDE BUT I COULD NOT STOP WONDERING IF MY FANS WERE HEARTBROKEN & MISERABLE BECAUSE OF ME…ALL THESE THOUGHTS ON THE FIRST DAY, MADE ME DEPRESS.
W: DID IT EVER CROSS YOUR MIND…'I AM LOVED SO MUCH'
*J:YES, REALLY, DID U FEEL IT?
W: YES, I DID BUT COMING TO THE MILITARY DOES NOT IMPLY THE END OF IT..LOOKING AT ALL THOSE MESSAGES & LETTERS TO WELCOME JG
*J: YES, I'M OVERWHELMED WITH GRATITUDE, I RECEIVED SO MUCH LOVE
W:DON'T WORRY, THE LOVE WILL NOT CHANGE
*J:YES, I FEEL IT INSIDE OF ME
W:I HEARD THAT ONE WILL GAIN WEIGHT AFTER TRANSFER BUT LOOKING AT YOUR FACE, U LOST MUCH WEIGHT,WHAT'S YOUR WEIGHT NOW? ***MESSAGE
*J: DIET IS NOT TOO STABLE NOW, WEIGHT IS SIMILAR TO THAT AT CAMP BUT THE FOOD HERE IS MUCH BETTER THAN AT CAMP.SENIORS HAVE TOLD ME 'JG, IN 2, 3 MONTHS' TIME, U WILL PUT ON WEIGHT,DON'T WORRY' HENCE, I'M NOT TOO WORRIED
W: IF JG PUT ON 2 OR 3 KG OF WEIGHT, HE WILL LOOK MORE HANDSOME.NOW, YOUR CHEEKS HAVE SUNKEN.
*J:YES, I SLIMMED DOWN WHEN I CAME(ENLISTMENT).ACTUALLY (ARMY) IT IS A GOOD ENVIRONMENT FOR SOLDIERS, MEALS ARE GOOD, SO PARENTS WHOSE CHILDREN ARE COMING IN SO, DO NOT WORRY
W:MOREOVER, THERE IS NO ARTIFICAL FLAVORING ADDED IN MEALS HERE, WE KEEP THE NATURAL GOODNESS OF FOOD,IT'S VERY GOOD, DO NOT WORRY
*J:YES, FOOD IS GOOD, NO WORRY
W:***RASIED AN INTERESTING QUESTION, MANY FANS HAVE POSTED THEIR QUESTION…I WOULD LIKE TO KNOW WHO STAY WITH JG(IN THE DORM) WHO IS IN THE BED NEXT TO YOURS,THE FORTUNATE ONE.IT'S RATHER EMBARRASSING.
*J:I'M THE FORTUNATE ONE..HE IS SOMEONE I IDOLIZED IN MY SCHOOL DAYS, SERGEANT TONY AN OF H.O.T. AS A HOT FAN, I FEEL HONOURED TO SLEEP NEXT TO HIM. IN OUR ROW, WE STILL HAVE ANDY HYUNG (SHINHWA), DW HYUNG & JAE WON HYUNG. ALL OF WHOM I RESPECT , LIVING HAPPILY TOGETHER, THERE'S SO MUCH TO LEARN.
W:OUR BEDS ARE ALIGNED ON BOTH SIDES(LEFT/RIGHT).ON THIS SIDE, WE HAVE TONY,KIM JAE WON,BOOM, ANDY,JG & I
*J:YES, SNUGGLE TOGETHER
W:7 OF US, OUR FEET AT ANOTHER'S FACE, THAT'S HOW WE SLEEP
W:***MESSAGE: LJG'S IMPRESSION ON THE TEAR GAS CHAMBER TRAINING?
VERY PROFESSIONAL QUESTION
*J:MY MOST VIVID MEMORY WAS ALL TRAINEES WANTED TO SEE THE LOOK OF ME WHEN I STEPPED OUT,THEY GATHERED IN A CIRCLE AT THE DOOR.EVERYONE WANTED TO SEE THE UGLIEST SIDE OF ME.THEIR WISH WAS GRANTED. A COMBINATION OF MUCUS,SALIVA, TEARS & SWEAT, ALL IN A MESS.
W:HOW WAS THE IMPACT?(GAS CHAMBER)LIKE DYING?
*J:I FELT NOTHING WHEN I FIRST STEPPED IN,THEN, THIS CAN'T HAPPEN IN REAL COMBAT,AS I TOOK OFF THE MASK, BUT I WAS YOUNG & STRONG, SO THAT WAS NOTHING.HOWEVER, THE MOMENT I STEPPED OUT OF THE CHAMBER,THIS FEELING OF SCORCHING HEAT…
W:IT CAME ALL OF A SUDDEN
*J:YES, I ALMOST BECAME INSANE OMG
W:YES, THERE WOULD BE NO PROBLEM WITH THE MASK ON
*J:YES & I WAS SO STUPID TO INHALE IN…THIS HAS BECOME A LAUGHING STOCK AMONG FELLOW TRAINEES
W:YES, ME TOO,THIS IS UNAVOIDABLE
*J:NOW RECALLING, IT'S STRANGE, THAT GAS CHAMBER
W:ONE HAS TO BE IN IT TO UNDERSTAND THE FEELING
*J:THIS CAN BE A PRESENT TO MY FANS IN FUTURE…HAHAHA…THE POWER OF CS BOMB
W:***MESSAGE:THROUGH INTERNET RADIO, OVERSEAS FANS ARE ABLE TO TUNE IN TO THIS PROGRAMME, PLEASE GIVE A BRIEF GREETING TO OVERSEA FANS, THEY WILL BE HAPPY
*J:OH, I HAVE NOT SAID THIS FOR A LONG TIME ( 3 LANGUAGES).I LAST SPOKEN IT IN MY FAN MEETS.FIRST IT'S KOREAN(I LOVE U ALL),(ENG) (JP) (CHN) I ALWAYS GREET THEM THIS WAY.
W: VERY WELL-SAID, THE LANGUAGES. GREETINGS IN 3 LANGUAGES
*J:YES, IT IS ALWAYS SAID AT THE START BUT FEEL A SENSE OF REGRET TOWARDS THE END.THIS BRIEF GREETINGS IS A TOKEN OF APPRECIATION FROM ME
W:THIS IS AMAZING,YOUR COMMAND OF ENGLISH IS NOT TOO BAD,SO IS THE JAPANESE & CHINESE.
*J:DW HYUNG IS GOOD AT IT TOO, WHY DO U SAY THAT?
W:I CAN'T EVEN SPEAK KOREAN PROPERLY WITHOUT STAMMERING
*J:U SPEAK IT WELL, DW HYUNG IS JUST KIDDING
W:THERE IS ***MESSSAGE..JG PORTRAYS AN IMAGE OF SOFT & GENTLENESS,I'M CURIOUS ABOUT YOUR CHARACTER IN REAL LIFE
*J:YEAH, I DON'T HAVE A 100% THOROUGH UNDERSTANDING OF MYSELF TOO.WHAT KIND OF PERSON AM I IN DW HYUNG'S EYES?
W:OH, ONE LOOK AT U GIVES THE IMPRESSION OF A GENTLE YOUTH ON THE EXTERIOR BUT IN ACTUAL FACT,HE IS STRONG-WILLED & RESPONSIBLE,VERY MANLY.THIS WAS WHAT I THOUGHT WHEN WE WERE MAKING THE DRAMA(MY GIRL) INTRASIGENT, PERSUASIVE & CARING.THAT WAS WHAT I FELT 4 YEARS AGO
*J:THESE ARE THE COMMENTS THAT I WANT TO HEAR, THANK U, I WISH TO BECOME ONE SUCH PERSON
W:THE FEELING IS GREAT, ISN'T IT?
*J:VERY, HAHAHA
W:LUCKY
*J:TONIGHT I WILL HAVE A GOOD SLEEP, THANK U
W;IT'S TRUE, I'M JUST SAYING THE TRUTH
W:***MESSAGE..OH IT'S A JAPANESE
*J:YES, A JAPANESE
W:WHAT IS THE MOST COMMON DISH ON THE MENU IN THE ARMY?
*J:I HAD TO CONTROL MY WEIGHT BECAUSE OF FILMING SO I COULDN'T ENJOY EATING RICE
AFTER I COME IN, I NEED ENERGY FOR MY ACTIVITIES SO I ATE PLENTY OF RICE,DISHES HERE ARE ALL WELL-BALANCED
W:YES, THEY ARE DELICIOUS. WE HAVE CULTIVATED THE GOOD HABITS OF EATING 3 MEALS PER DAY.ONCE MEAL TIME ARRIVES, WE WILL EAT & EAT HEARTILY
J: ANYTHING TASTES GOOD WHEN U ARE HUNGRY
W:THERE IS NO ARTIFICIAL FLAVORING,THIS IS A FACT.
*J:HAHAHA…WHO SAY THERE ARE?
W:NO NO , NO FLAVORING
*J: YES, NO ARTIFICIAL FLAVORING
W:GOOD FOOD & EVERYONE IS EATING WELL, DON'T WORRY
*J:I LOOK FORWARD TO EVERY MEAL BECAUSE THERE IS ALWAYS SOMETHING NEW ON THE MENU
W: U HAVE BEEN HERE FOR ONLY ABOUT 10 DAYS, THERE IS MORE DISHES TO LOOK FORWARD TO
*J: OK, I'M ANTICIPATING
W:OK, ANTICIPATE MORE. NOW, LET'S LISTEN TO SONG RECOMMENDED BY LJG
*J: U DON'T REALLY TRUST ME(MY TASTE) AFTER I COME.I USED TO MEET CELEBRITIES EVERY DAY, EVEN WHEN I'M IN THE ARMY NOW. WHEN WE WATCH MUSICAL PROGRAMMES ON TV WITH OUR SENIORS, WE GET TO SEE MANY GIRL POP GROUPS & THEIR PERFORMANCE.RECENTLY, THERE IS A SONG FROM A GROUP WHOSE MEMBER SHOT A CF WITH ME….IT'S CALLED 'NU ABO' BY F(X)
W:FREEDAY GUEST SEAT MOVIE ACTOR LJG IS WITH US. 3335 LISTENER MESSAGE: DW IS HUMOUROUS, TALKING SO NATRUALLY WITH JG,PLEASE TAKE GOOD CARE OF HIM. DON'T WORRY, I WILL TAKE GOOD CARE OF JG UNTIL I LEAVE.U READ THIS.
*J:I HEARD THAT AFTER U WENT THROUGH ARMY, U WILL FIND ALL WOMEN PRETTY, IS THAT TRUE? FOR JG TOO?WHAT IS YOUR FAVOURITE FOOD HERE? CHOCO PIE? MILITARY INSTANT NOODLES?(PACKET FORM/THE WAY IT IS EATEN IN THE ARMY HAHA?)
W:THAT WAS THE MESSAGE FROM 1316. SO, DO U FIND ALL LADIES PRETTY?
*J:THIS MAKES SOME SENSE, ER..YES, I FEEL IT TOO, THEY ARE ALL CHARMING. BEFORE I CAME, I FIND THEM CHARMING TOO BUT AFTER COMING HERE, THEY ARE MORE CHARMING IN A NATURAL WAY
W: AS A SOLDIER, OK.WHAT IS YOUR FAVOURITE FOOD, CHOCO PIE OR INSTANT NOODLE?
*J: I SIMPLY LOVED CHOCO PIES WHEN I WAS AT CAMP
W:MELT IN YOUR MOUTH IN 2 SECONDS
*J:I HELPED OUT IN A TALK & RECEIVED A BOX OF CHOCO PIES AS REWARD
W: WOW, NOT BAD,HUH?
*J:YEAH, AMIDST CHEERS FROM MY FELLOW TRAINEES
W:OUR COUNTRY IS ONE WONDERFUL NATION,PRODUCING SUCH AN AWESOME ITEM, REALLY.
*J:HAHAHA
W:IT ONLY TAKES 2 SECONDS TO MELT
*J:THIS IS A COMMON VIEW,A PRODUCT THAT REPRESENTS OUR COUNTRY
W:7652 MESSAGE:JG OPPA IS SO GOOD AT GUESSING GAME, WHAT'S YOUR SECRET?
*J:YES, WHY AM I SO GOOD?IT'S JUST AN INSTINCT.
W:OH, INSTINCT,NATURAL INSTINCT.
*J:THAT MEANS, I CAN FEEL WHAT'S MY OPPONENT NEXT MOVE & IT TURNS OUT TO BE TRUE.
W:THAT'S JUST RIGHT
*J:THERE ARE TIMES OF LOSSES BUT I STAND A HIGHER CHANCE OF WINNING
W:7652 ..PLEASE POLISH UP YOUR INSTINCT
*J:DOES JG HAND WASH HIS LAUNDRY? NOT USING A WASHING MACHINE?
W:6527 QUESTION
*J:WE HAD TO HAND WASH IN THE CAMP, BUT IN HERE, WE CAN USE THE MACHINE.SO MOST OF US WILL USE THE MACHINE, WE DO NOT WANT OUR HANDS TO SUFFER.
W:0205 MESSAGE: SUPER CYBER NERD LJG, DOES HE LONG TO SURF THE NET, GOING CY & ELSEWHERE?
*J:YES, I HAVE THE URGE BECAUSE IT IS AN HABIT
W:U CAN INTERACT WITH FANS
*J:YES, IT WAS ONCE A DAILY ROUTINE FOR ME.NOW IN THE ARMY, I HAVE DUTY TO DO EVERY DAY.WE CAN SURF OCCASIONALLY ON WEEKENDS.THIS COMING WEEKEND, I THINK I'M ALLOWED TO DO THAT, I CAN'T WAIT
W:CAN'T WAIT, RIGHT? TAKE A LOOK AT THIS
*J:OPPA, WE DON'T WANT MUSCLES.KOREAN FANS OPPOSE.CHINESE FANS HAD A VOTE & THEY PREFERRED FISH STOMACH
W:0187 MESSAGE..WHAT IS THAT?
*J:AH..IT MEANS A SMALL TUMMY LIKE THAT OF BABY
W:JG HAS MUSCLES NOW.I SAW IT DURING SHOWER TIME.FANS ARE GOING TO BE DISAPPOINTED, THERE IS NO MORE FISH STOMACH
*J:IN THIS CASE, I CAN PUT MY MIND AT EASE TO WORK OUT.ALL WILL BE HAPPY EITHER WITH MUSCLES OR NOT WHEN I LEAVE, THANK U.
W: SO U HAVE MADE UP YOUR MIND TO BUILD UP MUSCLES WHEN U LEAVE
*J:I CAN FEEL THAT MY TUMMY IS SMALLER NOW…I HAVE TO WORK HARD
W:2889 WANTS TO DEDICATE A SONG: I LIKE THE OST FROM ILJIMAE PARK HYO SHIN 'HWA SHIN' . I BELIEVE JG WILL BE LIKE ILJIMAE, SPEND YOUR ARMY DAYS HANDSOMELY
*J: I WILL EMULATE ILJIMAE, WRITE A GLOROUS CHAPTER OF MY MILITARY LIFE
W:HEALTH IS THE MOST IMPORTANT, WISH U CAN STAY HEALTHY & SAFE THROUGHOUT THE TIME
AH, IT'S TIME TO SAY GOODBYE TO JG
*J: I FEEL A LITTLE DISMAYED
W:TIME PASSES SWIFTLY
*J:YES, TIME FLIES
W:LASTLY,CONVEY YOUR LAST GREETINGS TO FANS
*J:IT HAS BEEN 11/12 DAYS SINCE I WAS TRANSFERRED HERE AFTER I COMPLETED MY TRAINING.ALL THIS WHILE, EVERYONE HAS BEEN SUPPORTIVE OF ME, READING THE MAILS FROM ALL OF U GIVES ME MOTIVATION & CONFIDENCE.THANK U SO MUCH. I WOULD LIKE TO REPLY TO EACH INDIVIDUAL BUT I'M UNABLE TO DO SO, THIS IS REGRETTABLE.THE POWER U BESTOWED ME HELP ME PULL THROUGH THE 5 WEEKS OF TRAINING. FOR THE REST OF THE PERIOD,I WILL MAKE IT THROUGH WITH LOVE & SUPPORT FROM U.I SINCERELY PRAY FOR HAPPINESS & HEALTH BE WITH ALL MY FANS.
W: I WILL MENTION NEWS ABOUT JG ON & OFF IN MY SHOW, NOT TO WORRY, HE IS DOING FINE HERE.AS A MILITARY PERSONNAL, HE CAN'T REPLY YOUR MAILS, FANS WILL UNDERSTAND
*J: YES
W:OH, LET'S SAY GOODBYE TO JG FROM HERE
*J:AH…I CAN'T BEAR TO LEAVE
W:HE WILL MEET ALL FANS SOON, THROUGH RADIO BROADCAST,SHOWCASING A BETTER SELF & VOICE
W: SEE U SOON. AFTER BADING GOODBYE TO JG, WE HAVE COME TO THE END OF TODAY'S PROGRAMME
W:THERE ARE DEDICATIONS TO BE MADE
CONGRATS TO ***BOYFRIEND WHO COMPLETED HIS SERVICE AFTER A WAITING OF 600 DAYS
***WISHES HER BOYFRIEND A HAPPY BIRTHDAY
WE END WITH HWA SHIN BY PARK HYO SHIN
SEE U AGAIN TOMORROW
PROGRAMME PRDOUCER KIM **
TECHNICAL ASSISTANT LEE**
SCRIPTS PARK **& CHOI **
HOST LDW
*J:HOPE EVERYONE LIKES
W:TO BE WITH 'LISTEN TO THE STORY'
BY CHERYL WONG
Lee Jun Gi voice mail 周波数案内&あいしてる 2010.06.21100621(ENG TRANS)LEE JOON GI PROMO CLIP FOR KFN
SOURCE & CREDIT JUNKICHINA
KFN IS KOREA ARMED FORCES NETWORK CONSISTS OF RADIO/TELEVISION/INTERNET BROADCAST
THIS IS A PROMOTIONAL AUDIO CLIP HE DID
@@@THIS IS A BRIEF TRANS OF WHAT JG IS SAYING@@@ BY CWNG
CHUNGSUNG,I'M PRIVATE LEE JOON GI…
TODAY IT IS MY TURN TO INTRODUCE KIM JUNG HOON VOICEMAIL
BROADCASTING FREQUENCY.
(seoul area,chuncheon,pocheon &cheorwon 96.7
wonju,yeoju,yangpyeong 101.1
baekyrung 89.5,
sokcho,samcheok,yangyang,kyongju historic areas 91.5
gangwon,kirin,sangnam93.3
hwacheon103.3
yanggu,inje 102.5
daejeon,nonsan area 100)
FOR THOSE WHO CAN'T LISTEN TO IT,
PLEASE GO TO KFN WEBSITE TO LISTEN TO INTERNET RADIO.
THOSE WHO WANT TO LEAVE MESSAGES OR PARTICIPATE IN THE PROGRAMME,
PLEASE VISIT (WEBSITE)OR INTERNET SEARCH FOR KIM JONG WOON VOICE MAN.
THOSE WHO PARTICIPATE IN THE PROGRAMME CAN GET A CHANCE TO WIN PRODUCTS OF VITAMIN HOUSE,
PLEASE PARTICIPATE ACTIVELY…
THAT WAS PRIVATE LEE JOON GI
BY CHERYL WONG
100707 LEE JUN GI MUSEUM DOCENT RECORDING 1 BY JOONYA

100707 LEE JUN GI MUSEUM DOCENT RECORDING 2 BY JOONYA

100707 LEE JUN GI MUSEUM DOCENT RECORDING 3 BY JOONYA

100707 LEE JUN GI MUSEUM DOCENT RECORDING 4 BY JOONYA

100707 LEE JUN GI MUSEUM DOCENT RECORDING 5 BY JOONYA

100707 LEE JUN GI MUSEUM DOCENT RECORDING 6 BY JOONYA

100707 LEE JUN GI MUSEUM DOCENT RECORDING 7 BY JOONYA

100707 LEE JUN GI MUSEUM DOCENT RECORDING 8 BY JOONYA

100707 LEE JUN GI MUSEUM DOCENT RECORDING 9 BY JOONYA

100707 LEE JUN GI MUSEUM DOCENT RECORDING 10 BY JOONYA

100707 LEE JUN GI MUSEUM DOCENT RECORDING 11 BY JOONYA

100707 LEE JUN GI MUSEUM DOCENT RECORDING 12 BY JOONYA

100707 LEE JUN GI MUSEUM DOCENT RECORDING 13 BY JOONYA

JGHP teaser02.wmv

국방 홍보원 별 사탕 [2010.12.06]


Lee Jun Gi Army Channel's Radio Program01

101206(Eng/Chn) Trans of DJ Lee Jun Gi+ opening+ending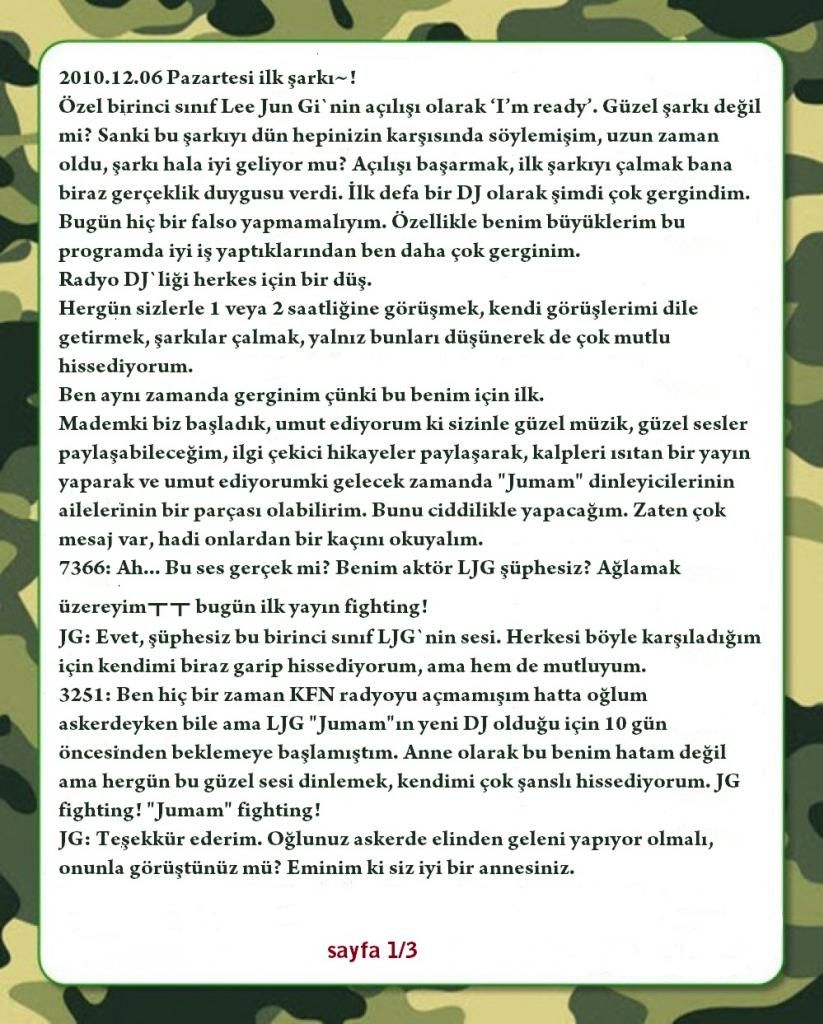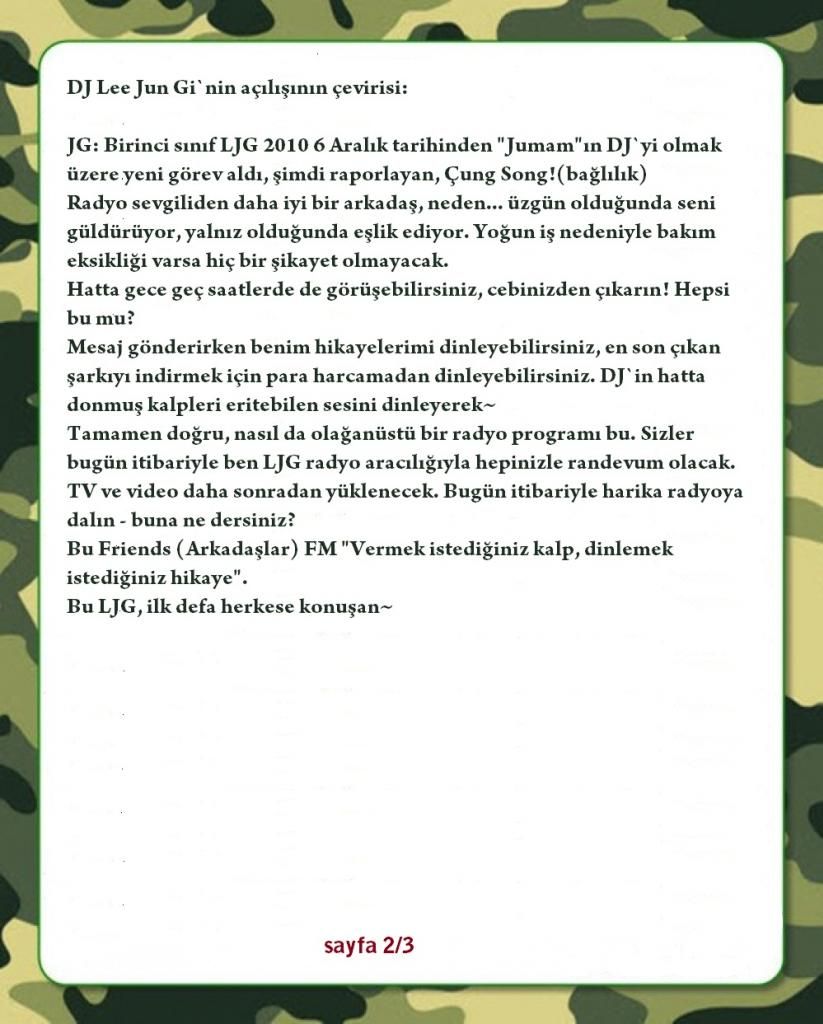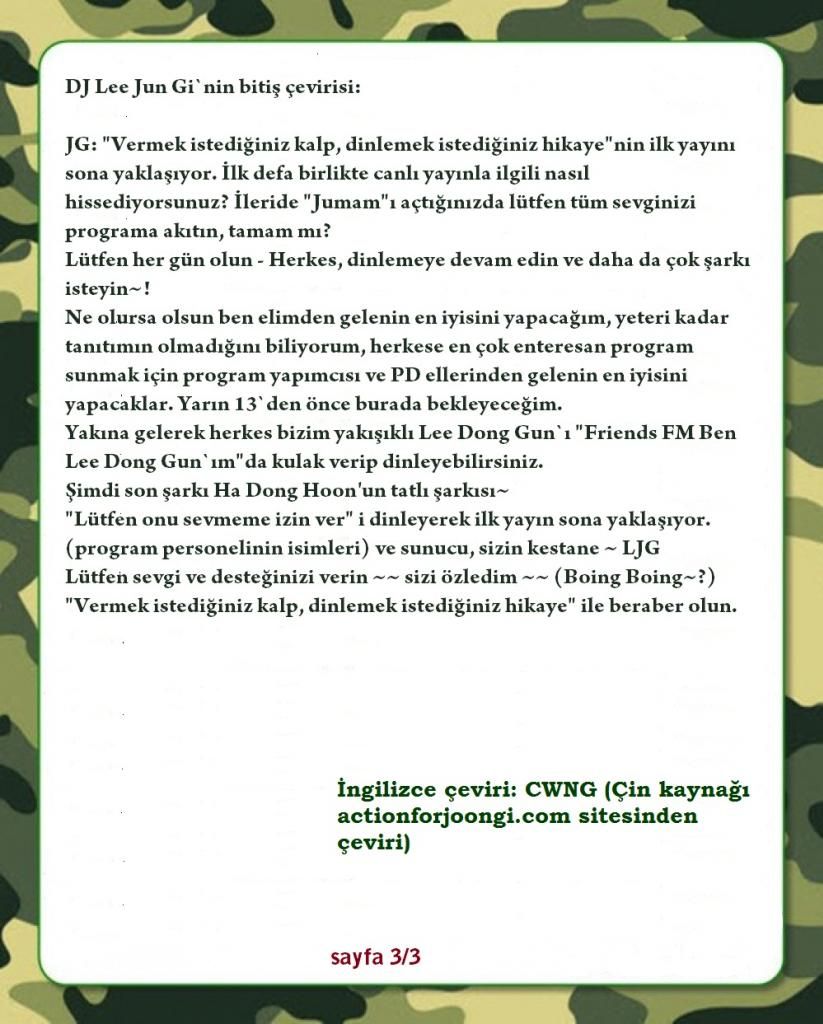 English-Turkish translation:  JunpirE Turkey Family
국방 홍보원 별 사탕 [2010.12.07]


Lee Jun Gi Army Channel's Radio Program02

101207 Talk & sketch about woman
1207 Today Kim Ji Suk (JS) hosted the segment of 'Ask the woman' with JG.
This is a segment hosted by JS, focusing on topics revolving around womenBoth men were enlisted in May. He congratulated JG on his new DJ role.JG thanked him & Kim Jae Won for their teaching.
JS said the message board was chaotic(too many messages) ,he promised to upload photos of different looks of JG for fans.Thanks to JS, they had ample oats…JG's fan club DC has sent 20000 boxes of oats to DEMA, JG asked if Lee Jin Wook enjoyed the oats too & added that he himself likes oats.JS said he had had his dinner followed by the oats & he had come well prepared, for the sake of the present & future rubber shoes(lovers) of the 600000 force.This segment attempts to understand the opposite gender from the perspective of men.JG encouraged listeners to tune in regularly to understand women better & he did not forget to invite female listeners too, females can get to know the males better through this segment.
One can become a love specialist & highlighted that seniors should pay more attention since they would meet their lover soon after discharge..& be a playboy.JS had prepared a short sketch for today's program
JG: It's so cold, dear, can I have your coat?
JS: But dear, I'm cold too.
JG: What? U said u love me, u have a change of heart?
JS: Ok, I will take it off for u..
JG: That's better, I feel so warm now~
JS: Oh, what is this? U are wearing a skirt? It's so cold today!
JG: I'm wearing stocking
JS: Does it keep u warm?
JG: Yes
JS: Return me my coat.
JG: But it's cold outside.
JS: Haiz, it's difficult to understand woman, wearing stocking in the cold winter?
@@@Eng Trans by CWNG(trans from chn source by actionforjoongi.com)@@@
By: Cheryl Wong
10.12.07 Konuşma & Skeç kadın hakkında
1207 Bugün Kim Ji Suk (JS) JG ile 'kadın sor' segmentinde ev sahipliği yaptı.
Bu bir segment 'sı kadın iki adam etrafında dönen konular üzerinde duruluyor JS tarafından barındırılan Mayıs ayında askere. Onların öğretim için onu & Kim Jae Won konuları onun yeni DJ role.JG üzerinde JG kutladı.
JS mesaj panosu (çok fazla mesaj) kaotik olduğunu söyledi, o hayranları için JG farklı görünüyor fotoğrafları yüklemek için söz verdi. Lee Jin Wook çok yulaf zevk varsa ve kendisi yulaf seviyor sözlerine ekledi JS sayesinde, JG's fan club DC DEMA için yulaf 20000 kutuları gönderdi bol yulaf … vardı, JG sordu. JS onun yemek yulaf ve o 600.000 force.This kesiminin mevcut ve gelecekteki lastik ayakkabı (severler) uğruna, iyi hazırlanmış gelmiş erkeklerin bakış açısıyla karşı cinsiyet anlamak için girişimlerini takip yaptıklarını söyledi. JG daha iyi ve o da bayan dinleyici davet unutmadı kadınlar anlamak için düzenli olarak ayarlamak için dinleyici teşvik, kadın erkek bu segment ile daha iyi bilmek alabilirsiniz.
Tek bir aşk uzmanı olabilir ve onlar akıntı kısa bir süre sonra onların Aşkınızı zira yaşlılar daha fazla dikkat etmesi gereken .. ve bir playboy vurgulanır. JS bugünün programı için kısa bir taslak hazırlamıştı
JG: Bu sevgili, senin ceket olabilir, bu nedenle soğuk?
JS: Ama canım, ben çok üşüyorum.
JG: Ne? U u, bana sevgi kalbin bir değişiklik var u dedi?
JS: Tamam, ben u. için onu alacak.
JG: Bu ~, şimdi sıcak öyle hissediyorum daha iyi
JS: Ah, bu ne? U etek giyiyorsun? Bugün çok soğuk!
JG: Ben çorap giyiyorum
JS: sıcak u tutuyor mu?
JG: Evet
JS: dön bana ceket.
JG: Ama soğuk dışındadır.
JS: Haiz, bu soğuk kış çorap giyen kadın anlamak zor?
@ @ @ CWNG tarafından Müh Trans (actionforjoongi.com tarafından CHN kaynaktan trans) @ @ @
English-Turkish translation: Google Translate
국방 홍보원 별 사탕 [2010.12.08]


Lee Jun Gi Army Channel's Radio Program03

101208 Jumam about pets (summary)
1208 Summary
Squirrels would collect acorn or chestnuts for the winter & hide them underground but many times, they would have forgotten where they put them & those left forgotten would grow into plants.
Similarly, we may misplace our money, for instance, the balance left in our forgotten passbook, spare change in abandoned wallets, this is a small jackpot in our lives when we find them. Now, u can use such money, 50 kr won of it to send sms to the show.
I will collect your messages like that of a squirrel collecting chestnuts.
It did not snow as heavily as anticipated, what a relief. The soldiers were rejoicing.
Earlier on, when it started to snow, many of us were depressed, some felt lucky while others felt regrettable.
All those at KFN, the soldiers & the seniors were worried about those in the frontline, in such cold weather.
Just snow moderately to lift the spirits up & melt away fast, that will do.
Talking about squirrels, it seems interesting to keep as pet but I have only kept dogs before.
A tiny creature, doing nothing, feed it some acorns or chestnut every few days, isn't it?
It would be so happy~
Come to the topic of my lovable pet, it should be called animal companion instead of a pet
What animal companion do u keep, what do u feed it with, your feelings of rearing it, let me know.
I have kept my dog since young & there were some sad stories too.
Now, my father is looking after him for me.
Replies of Messages
The songs played are selected by PD, what do u think?
I'm often dancing to the music in the studio. Of course, there are ballads too…does anyone move to the music? We will play many songs in the future.
A fan asked if the news a while ago was read by PD
JG replied,; Kia PD, nice voice isn't it? But she is terribly picky~~
He replied another message.' I will only know when I'm told to go ( to visit the female soldiers)'
I have not tried clearing the snow yet but our seniors said, after doing it, they lost appetite.Please don't mention it
Reply to another fan,' Yes, I said it yesterday. I will fulfill it, that's right.'
Please get the frequency right, u can tune in anywhere.
@@@Eng trans by CWNG(trans from chn source@actionforjoongi.com)@@@
By: Cheryl Wong
101208 Jumam Evcil Hayvan hk. (özet)
1208 Özeti
Sincap kış için palamut veya kestane toplayacak ve bunları gizleyebilirsiniz kapalı ama birçok kez, onlar unutulmuş olurdu onları ve bu bitkileri içine büyümek istiyorsunuz unutulmuş sol oraya koydum.
Benzer şekilde, örneğin, bizim unutulmuş hesap cüzdanı sol dengesi paramızı yanlış yerleştirmek olabilir, terk cüzdan yedek değiştirmek, bu onları bulmak hayatımızda küçük bir ikramiye olduğunu. bunu göstermek için sms göndermek için bir Şimdi, u gibi para kullanabilirsiniz, 50 kr kazandı.
Bir sincap toplama kestane gibi iletilerinizi toplayacaktır.
yoğun olarak ne rahatlama, beklendiği gibi bu kar etmedi. Askerler sevinç vardı.
Daha önce üzerinde, kar başladığından çoğumuz başkalarının üzüntü hissetti iken bazı şanslı hissettim, depresyon bulunduğu belirlenmiştir.
Tüm KFN olanların, askerler ve yaşlılar gibi soğuk havalarda cephe olanlar, endişelendik.
Sadece kar orta ruhları kaldırmak için ve yapacak, hızlı eriyip.
sincap bahsedersek, pet olarak tutmak için ilginç görünüyor ama ben sadece daha önce köpek kalmasını sağladı.
Minik yaratık, hiçbir şey yapmadan, bazı meşe palamudu yem veya kestane birkaç günde, öyle değil mi?
O ~ o kadar mutlu olurdu
benim sevimli hayvan konuya gel, o hayvan arkadaşı yerine bir hayvan adı olmalıdır
ne u yetiştirme duygularını, onu yem yapmak, tutmak u Hangi hayvan arkadaşı yok, bana bildirin.
Ve genç bazı kötü bir hikaye de vardı beri benim köpek kalmasını sağladı.
Şimdi, babamın bana ondan sonra arıyor.
Mesaj Cevaplar
oynanan şarkılar ne u sizce PD tarafından seçiliyor?
Sık sık stüdyoda müzik dans ediyorum. Tabii ki, baladlar var da … müziği herkes hareket ediyor? Gelecekte birçok şarkı oynayacak.
haber bir süre önce PD tarafından okundu eğer bir fan sordu
JG cevap verdi; Kia PD, güzel ses değil mi? Ama ~ ~ korkunç seçici olduğunu
O başka bir mesaj verdi. ' Ben sadece (kadın askerleri ziyaret etmek) 'gitmek için söylediğim zaman bileceğim
Ama henüz kar temizleme hiç denemedim bizim yaşlılar dedi, onu yaptıktan sonra, onlar iştahını kaybetti. estağfurullah Lütfen
Cevap başka bir fan için, 'Evet, dün de söylemiştim. Ben bu doğru, bunu yerine getireceğiz. '
frekans sağ olsun lütfen, u her yerinde ayar yapabilirsiniz.
@ @ @ Eng CWNG tarafından (CHN source@actionforjoongi.com itibaren trans) @ @ @ trans
English-Turkish translation: Google Translate
국방 홍보원 별 사탕 [2010.12.09]


Lee Jun Gi Army Channel's Radio Program04

Summary Translations of Jumam [2010.12.09]


By: Cheryl Wong
국방 홍보원 별 사탕 [2010.12.10]


Lee Jun Gi Army Channel's Radio Program05Summary Translations of Jumam [2010.12.10]

By: JGfamily
국방 홍보원 별 사탕 [2010.12.13]


Lee Jun Gi Army Channel's Radio Program06Summary Translations of Jumam [2010.12.13]

By: Cheryl Wong
국방 홍보원 별 사탕 [2010.12.14]


Lee Jun Gi Army Channel's Radio Program07

Summary Translations of Jumam [2010.12.14]

By: JGfamily
국방 홍보원 별 사탕 [2010.12.15]


Lee Jun Gi Army Channel's Radio Program08

Summary Translations of Jumam [2010.12.15]

By: JGfamily
국방 홍보원 별 사탕 [2010.12.16]


Lee Jun Gi Army Channel's Radio Program09

Summary Translations of Jumam [2010.12.16]

By: Cheryl Wong
국방 홍보원 별 사탕 [2010.12.17]


Lee Jun Gi Army Channel's Radio Program10

Summary Translations of Jumam [2010.12.17]

By: Cheryl Wong
국방 홍보원 별 사탕 [2010.12.20]


Lee Jun Gi Army Channel's Radio Program11Summary Translations of Jumam [2010.12.20]

Source: JGfamily
국방 홍보원 별 사탕 [2010.12.21]


Lee Jun Gi Army Channel's Radio Program12Summary Translations of Jumam [2010.12.21]


'ask the woman' segment 2010.12.21

Source: JGfamily
국방 홍보원 별 사탕 [2010.12.22]


Lee Jun Gi Army Channel's Radio Program13Summary Translations of Jumam [2010.12.22]


'Walking out from the books' segment 2010.12.22

Source: JGfamily
국방 홍보원 별 사탕 [2010.12.23]

Lee Jun Gi Army Channel's Radio Program14Summary Translations of Jumam [2010.12.23]


'JG walking out from books' segment 2010.12.23

Source: JGfamily
국방 홍보원 별 사탕 [2010.12.24]


Lee Jun Gi Army Channel's Radio Program15Summary Translations of Jumam [2010.12.24]

By: Cheryl Wong
국방 홍보원 별 사탕 [2010.12.27]


Lee Jun Gi Army Channel's Radio Program16Summary Translations of Jumam [2010.12.27]

By: Cheryl Wong
국방 홍보원 별 사탕 [2010.12.28]


Lee Jun Gi Army Channel's Radio Program17Summary Translations of Jumam [2010.12.28]

By: Cheryl Wong
국방 홍보원 별 사탕 [2010.12.29]


Lee Jun Gi Army Channel's Radio Program18Summary Translations of Jumam [2010.12.29]

By: Cheryl Wong
국방 홍보원 별 사탕 [2010.12.30]


Lee Jun Gi Army Channel's Radio Program19

Summary Translations of Jumam [2010.12.30]

By: Cheryl Wong
국방 홍보원 별 사탕 [2010.12.31]


Lee Jun Gi Army Channel's Radio Program20

Summary Translations of Jumam [2010.12.31]

By: JGfamily